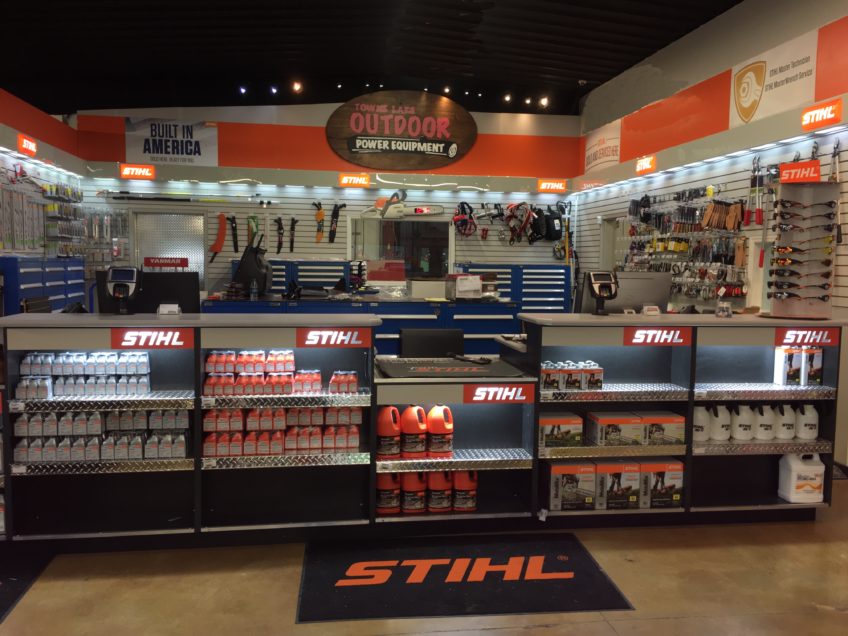 We are very proud to be a retailer of the STIHL product line. We carry a full line of STIHL parts and accessories.
Come by and see us for STIHL product demonstrations.
Our friendly and knowledgeable staff will be glad to assist you in any way we can.
STIHL on Facebook
Although the ideal remains unchanged, the tools of the STIHL craftsman have transformed dramatically. Controlled machines craft intricate components with speed and dexterity the artisan never imagined. And lasers examine production quality with far greater precision. Craftsmanship was a state of mind among STIHL employees in the past. It remains true today. Your Best Assurance of Quality STIHL Incorporated has qualified for ISO 9001 and 14001 Registration. This means that STIHL Incorporated meets the rigid manufacturing and quality standards set by the International Standards Organization. Periodic audits by independent auditors ensure that the guidelines are being met. Meeting these standards enables STIHL Incorporated to ship the highest-quality products, manufactured in its Virginia Beach plant, to customers throughout the world. Enthusiasm For The Future STIHL is committed to designing and building high quality and innovative products. We are committed to our employees and to the future of the power equipment industry.
Lauren Snyder
1 day ago
Bobbi Valin
2 days ago
SCAG on Facebook
Scag Mowers
19 hours ago
Scag Mowers
2 days ago
Scag Mowers
4 days ago
GRASSHOPPER on Facebook
For 40 years, Grasshopper has studied the needs of landscape professionals and equipment owners across the nation and around the world, and Grasshopper engineers continuously research and test new product features and improvements at our 300,000-square-foot facility in Moundridge, Kansas.
Grasshopper Mowers
6 hours ago
Grasshopper Mowers
4 days ago
Grasshopper Mowers
5 days ago