SCAG Tiger Cat II
With roaring power and agile maneuverability, the compact Scag Tiger Cat II® is a force all its own. Re-engineered from the ground up to set the stand in mid-size zero-turn riders.
Contact us or come by to see for yourself how the
Tiger Cat II can work for you!
Description
Where productivity is essential, the Scag Tiger Cat II delivers with ease, capable of handling more than 24 acres per day.
Scag Tiger Cat II Features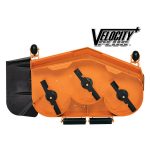 Scag Velocity Plus Cutter Decks
48″, 52″ OR 61″ CUTTING WIDTH
The envy of the industry, Velocity Plus™ decks deliver an amazing quality of cut and a wide, even discharge. This deck is equipped with Scag's ultra-tough cast-iron spindles featuring tapered roller bearings and a top-mounted grease fitting with a relief valve to prevent over-greasing.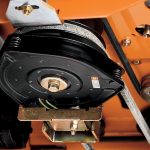 Scag Ogura PTO Clutch Brake
STRONG, ADJUSTABLE CLUTCH FOR LONG LIFE
The Ogura GT3.5 PTO Clutch Brake provides excellent starting and stopping power for the cutter deck, 250 ft. lb. of holding strength, and an adjustable air gap for long life. 
High-Strength Steel Frame
SOLID DESIGN FOR YEARS OF DEPENDABLE SERVICE
Heavy-duty, single-tube, steel main-frame construction delivers superior strength and ensures years of trouble-free service. The front caster-wheel weldments are replaceable.
Industrial-Grade Hydraulic System
SPEEDS UP TO 12 MPH
Dual Hydro-Gear pumps (12 cc) and Parker wheel motors (14.5 ci) deliver dependable power. Pump shock valves ensure reliability and long life. Cooling fans help maintain safe operating temperatures.
Ease of Maintenance
MORE UPTIME
Flip-up access panels, an unrestricted engine compartment, easy-to-reach grease zerks, and many more features make servicing the Tiger Cat® simple, so you can be in the shop less and on the job more.
Scag Tiger Cat II Suspension Seat
Ride in Comfort
Torsion-spring suspension seat adjusts to each operator's weight to provide superior comfort. The seat features full padding, forward/rearward adjustment, a high back, adjustable armrests, and an adjustable back angle. The 4-point, rubber iso-mounting provides even more shock absorption, maximizing your comfort, hour after hour.
Tiger Eye Advanced Monitoring System
KEEP A REAL-TIME "EYE" ON IMPORTANT SYSTEM FUNCTIONS
Depending on the mower model and engine selection, the Tiger Eye™ Advanced Monitoring System monitors a wide variety of systems in real-time, giving you valuable information in just a glance, right from the operator's seat. 
12-Volt Outlet
Keep Your Device Charged and Ready
A 12-volt outlet for added convenience allows operators to plug in small accessories or keep their phones at full charge.
Powerful and Efficient Engine Options
HUGE POWER, UP TO 32 HP
Choose from a Kawasaki®, Briggs Vanguard™, or Kohler® air-cooled engine; electronic fuel injection (EFI) options are available.